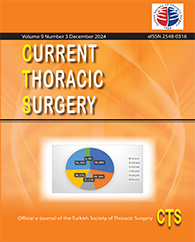 The Current Thoracic Surgery is a current periodical, peer-reviewed and open access official e- journal of the Turkish Society of Thoracic Surgery which its funded and published three times annually. In April, August and December. The language of the journal is English.
The Current Thoracic Surgery is dedicated to publishing clinical research, clinical analysis, laboratory and experimental studies, editorials, invited current reviews, case reports, interesting images and "How to Do It" papers.
The journal is based on independent and unbiased double-blinded peer-reviewed principles. Only unpublished papers that are not under review for publication elsewhere can be submitted. Current Thoracic Surgery does not accept multiple submission and duplicate submission even though the previous one was published in a different language. The authors are responsible for the scientific content of the material to be published. The Current Thoracic Surgery reserves the right to request any research materials on which the paper is based.
The Current Thoracic Surgery encourages and enables academicians, researchers, specialists to publish their valuable research in branches of general thoracic surgery, thoracic disease and thoracic surgery anesthesia. The primary aim of the journal is to publish original articles with high scientific and ethical quality and serve as a good example of medical publications in the World.
The Editorial Board of the Current Thoracic Surgery and the Publisher adheres to the principles of the International Council of Medical Journal Editors (ICMJE), the World Association of Medical Editors (WAME), the Council of Science Editors (CSE), the Committee on Publication Ethics (COPE), the US National Library of Medicine (NLM), the World Medical Association (WMA), the US Office of Research Integrity (ORI), the European Association of Science Editors (EASE), the International Society of Managing and Technical Editors (ISMTE) and Open Access Scholarly Publishing Association (OASPA).
All articles are available in PDF format on our website (
http://cts.tgcd.org.tr/
) and can be downloaded free of charge.
OPEN ACCESS POLICY
The Current Thoracic Surgery journal provides immediate open access to its content on the principle that making research freely available to the public supporting a greater global exchange of knowledge.
By "open access" to (peer-reviewed research literature), we mean its free availability on the public internet, permitting any users (readers, libraries, institutions and organisations) to read, download, copy, distribute, print, search, or link to the full texts of these articles, crawl them for indexing, pass them as data to software, or use them for any other lawful purpose, without financial, legal, or technical barriers.
Current Thoracic Surgery publishes all articles under the open access model, defined under Budapest, Berlin, and Bethesda open access declarations. The full content of the articles is freely available for anyone without any charges are other restrictions.
All content of Current Thoracic Surgery is distributed under the Creative Commons Attribution 4.0 International License (CC BY 4.0), which permits unrestricted use, distribution and reproduction, free of charge, in any medium, no matter copyright is transferred fully to the publisher.
Open Access is a true un-restricted exchange of ideas and science.
Open access publishing benefits you in both your roles as an author and as a reader. The advantages of open access are:
All published articles are freely available to all readers, in any part of the world. Free availability of your work published under open access means more citations for your articles and increased impact of your work.
Authors also benefit from work of other researchers published under open access. They are free to download and read their work and this provides you with the latest, peer-reviewed research information without charges.
Everyone in the academic community has immediate and free access to the results of your research.
The articles published under open access are fully citable.
Useful Links:
Further reading for extensive discussion of different kind of open access see, https://dash.harvard.edu/bitstream/handle/1/4322580/suber_oagratis.html?sequence=1&isAllowed=y