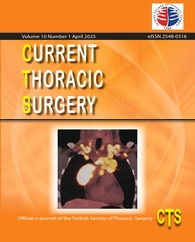 Owner, on behalf of Turkish Society of Thoracic Surgery
Hakan KUTLAY, MD, Division of Thoracic Surgery, Ankara University School of Medicine, Ankara, Turkey,
President, Turkish Society of Thoracic Surgery
Editor-in-Chief
Berkant ÖZPOLAT, MD, Department of Thoracic Surgery, Ankara Güven Hospital, Ankara, Turkey
Managing Editor
Cabir YÜKSEL, MD, Department of Thoracic Surgery, Ankara University School of Medicine, Ankara, Turkey
Editors
Mehmet BAYRAM, MD, Department of Chest Diseases, Medipol University School of Medicine, İstanbul, Turkey
Korkut BOSTANCI, MD, FEBTS, Department of Thoracic Surgery, Marmara University, School of Medicine, İstanbul, Turkey
Ali KILIÇGÜN, MD, Department of Thoracic Surgery, İzzet Baysal Training and Research Hospital, Bolu, Turkey
Serpil DİZBAY SAK, MD, Department of Pathology, Ankara University, School of Medicine, Ankara, Turkey
Özgür SAMANCILAR, MD, Department of Thoracic Surgery, Dr.Suat Seren Chest Diseases and Thoracic Surgery Training and Research Hospital, İzmir, Turkey
Zerrin SUNGUR, MD, Department of Anesthesiology and Reanimation, İstanbul University School of Medicine, İstanbul, Turkey
Statistical Editor
Atilla ELHAN, MD, Department of Biostatistics, Ankara University, Ankara, Turkey
Associate Editors
Burçin ÇELİK, MD, Department of Thoracic Surgery, Ondokuz Mayıs University, School of Medicine, Samsun, Turkey
Muhammet Reha ÇELİK, MD, Department of Thoracic Surgery, İnönü University, School of Medicine, Malatya, Turkey
Erkmen GÜLHAN, MD, Department of Thoracic Surgery, Atatürk Chest Diseases and Chest Surgery Education Research Hospital, Ankara, Turkey
Aslı GÜL TEMEL, MD, Department of Thoracic Surgery, Şişli Hamidiye Etfal Education and Research Hospital, İstanbul, Turkey
Turgut IŞITMANGİL, MD, Department of Thoracic Surgery, İstanbul Sultan 2. Abdülhamit Han Sample Training and Research Hospital, İstanbul, Turkey
Serda KANBUR METİN, MD, Department of Thoracic Surgery, Süreyyapaşa İstanbul Chest Diseases and Chest Surgery Education Research Hospital, İstanbul, Turkey
Berker ÖZKAN, MD, Department of Thoracic Surgery, İstanbul University School of Medicine, İstanbul, Turkey
Mehmet Oğuzhan ÖZYURTKAN, MD, Department of Thoracic Surgery, Medicana International Hospital, İstanbul, Turkey
Ekber ŞAHİN, MD, Department of Thoracic Surgery, Sivas Cumhuriyet University, School of Medicine Sivas, Turkey
Serdar ŞEN, MD, Department of Thoracic Surgery , Adnan Menderes University, School of Medicine, Aydın, Turkey
Uğur TEMEL, MD, Department of Thoracic Surgery, Şişli Hamidiye Etfal Education and Research Hospital, İstanbul, Turkey
Akif TURNA, MD, PhD, FETCS, Department of Thoracic Surgery, İstanbul University Cerrahpaşa-Cerrahpaşa Medical Faculty, İstanbul, Turkey
Erdal YEKELER, MD, Department of Thoracic Surgery & Lung Transplantation, University of Health Sciences, Ankara City Hospital, Ankara, Turkey
International Editorial Board
Hamdi ABU ALİ, MD, FACS, Department of Thoracic Surgery, Jordan Hospital and Medical Center, Amman, Jordan
Albert BOLANOS CUBILLO, Department of Thoracic Surgery, Hospital Dr. Rafael Angel Calderón Guardia, University of Costa Rica, San José, Costa Rica
Hussein ELKHAYAT, MD, Department of Cardiothoracic Surgery, Assiut University Heart Hospital Faculty of Medicine, Assiut University, Assiut, Egypt
Felix HERTH, MD, PhD, DSC, FCCP, FERS, Department of Pneumology and Critical Care, Heidelberg University Hospital, Heidelberg, Germany
Peter GOLDSTRAW, MD, Department of Thoracic Surgery, Imperial College, Royap Brompton Hospital, London, United Kingdom
Walter KLEPETKO, MD, Department of Thoracic Surgery, Vienna Medical University, Vienna, Austria
Peter LİCHT, MD, PhD, Department of Cardiothoracic Surgery, Odense University Hospital, Odense, Denmark
Harvey PASS, MD, Department of Thoracic Surgery, New York University Medical Center, NY, USA
Douglas MATHİSEN, MD, USA Division of Thoracic Surgery, Massachusetts General Hospital, Boston, MA, USA
Gerardo Rea MENDOZA, MD, Thorax Uniport, High Specialty Society of Pneumology and Thoracic Surgery Civil Association, Colima, México
Alan SİHOE, MD, China MBBChir, MA(Cantab), FRCSEd(CTh), FCSHK, FHKAM, FCCP, FACS, Gleneagles Hong Kong Hospital, Hong Kong, China
Lorenzo SPAGGİARİ, MD, PhD, Department of Thoracic Surgery, European Institute of Oncology, Milan, Italy
Jean-Marie WİHLM, MD, Department of Thoracic Surgery, Strasbourg University Hospital, Strasbourg, France
John DARK, MD, FRCS, Department of Thoracic Surgery, Faculty of Medical Sciences, Newcastle University, Newcastle, United Kingdom
Erino RENDİNA, MD, Department of Thoracic Surgery, Sapienza University, Sant' Andrea Hospital, Rome, Italy
Antoon LERUT, MD, PhD Department of Thoracic Surgery, Leuven University Hospital, Leuven, Belgium
Jose Ribas Milanez DE CAMPOS, MD, Division of Thoracic Surgery, University of Sao Paulo Medical School, Sao Paulo, Brazil
Michele CARBONE, MD, PhD, Departmetn of Thoracic Oncology, University of Hawaiʻi Cancer Center, Honolulu, USA
Diago Gonzales RİVAS, MD, FETCS, Department of Thoracic Surgery, Coruña University Hospital, UCTMI, Coruña, Spain, Shanghai Pulmonary Hospital, Shanghai, China
Hans PİLEGAARD, MD, Department of Thoracic Surgery, Aarhus University Hospital, Aarhus, Denmark
Chien-Li HOLMES-LİEW, MD, MBBS, MCSc, FRACP, Department of Pulmonology, University of Adelaid, Faculty of Health and Medical Sciences, Adelaide, Australia
Gonzalo VARELA, MD, PhD, Department of Thoracic Surgery, Salamanca University Hopsital, Salamanca, Spain
Marcelo MARTİNEZ-FERRO, MD, Department of Surgery, Schildren's Hospital, Buenos Aires, Argentina
Gregor KOCHER, MD, Division of General Thoracic Surgery, University Hospital, Bern Switzerland
Davor STAMENOVIC, MD, Department of Thoracic Surgery, Johannes Gutenberg University of Mainz, Mainz, Germany
Sira LAOHATHAI, MD, Cardio Thoracic Surgery Unit, Department of Surgery, Faculty of Medicine Vajira Hospital, Navamindradhiraj University, Bangkok, Thailand
Elections and Working Instructions for Editors, Associate Editors of the Journals Owned/Co-owned or Published by the Turkish Society of Thoracic Surgery
A. Objective
With this directive, it is aimed to standardize the functioning of scientific-medical-vocational-social periodical, printed or electronically published journals that are owned/co-owned or being published by the Turkish Society of Thoracic Surgery or other medical, scientific professional institutions and organizations.
B. Establishing Boards
Editors (Editor-in-Chief, Editors, and Associate Editors) of journals published by our society are determined as follows.
1. Editors serve for three years.
2. Following the expiration of time for the above-mentioned editorial positions, a candidacy announcement is made to the members by the current board of directors of Turkish Society of Thoracic Surgery.
3. Those who were on duty in the previous term may be candidates again.
4. Editors (Editor-in-Chief, Editors, and Associate Editors) are selected by the board of directors among these candidates. In the selection, the candidate's editorial experience and the ability to spare enough time for this task are reasons for preference.
5. The associate editorial election, is determined together with the chief editor / editors at the first following board meeting of the society where the chief editor / editors will work together for 3 years,
6. International Editorial Board is composed of scientists all over the world who are the leaders of their divisions. Additions and deletions to the international editorial board are made with the editor's proposal and approval of the board of directors.
7. Referees continue their duties in the same way. In new participation and cancellations for refereeing (refusal to review articles 5 times in a row is the reason for referee cancellation), they act in line with the joint decisions of the chief editor, administrative editor and assistant editors and are fully authorized.
8. These standards include all periodical and non-periodical journals and bulletins, either electronic or printed.
C. Initial Time and Duration of the Directive
This directive takes effect as of January 1, 2017 and it is valid until a new directive is created.
D. Enforcement of the Directive
This directive is implemented by the board of directors of the Turkish Society of Thoracic Surgery